According to recent reports, the Padres are interested in adding a "big bat" to the line-up, and the Angels are interested in trading hitter Mark Trumbo in exchange for young pitching. Reports have said that the Padres are interested in adding Trumbo and the two teams match up very well for a trade. The Padres have a plethora of young pitching, headed by Matt Wisler, Max Fried, and Burch Smith. Keyvius Sampson, Robbie Erlin, Zach Eflin,

Joseph Ross

and several others could also be a part of a trade. According to Baseball America, the Padres have the 3rd best farm system in all of baseball, so there plenty of excellent prospects for the Angels to pick from.
Trumbo, 27, hit 34 home runs and drove in 100 runs last season. The Anaheim native boasts very impressive power that does play at PETCO, as all 19 of the home runs he hit at home would have been home runs in San Diego's cavernous ballpark. This explosive power is exactly what the Padres need to add to their lineup. A core of Carlos Quentin, Chase Headley, Jedd Gyorko, Mark Trumbo, and Everth Cabrera could set the table for a very good offense.
A possible deal for Trumbo would open the door for a potential trade of first baseman Yonder Alonso. A possible suitor could be Tampa Bay, a team that is currently starting James Loney at 1st base. A possible target from the Rays could be former Rookie of the Year Jeremy Hellickson or former CY Young award winner David Price. Price would certainly be the better option, but on the other hand, he makes a significantly larger amount of salary and would require players beyond Alonso.
Mark Trumbo will be arbitration eligible for the first time this offseason, and is projected to make just under 5 million dollars next season. The Padres' ownership group has said that the Padres 2014 payroll will be in the 80 million dollar range, an increase that would most likely cover the raises to players in arbitration as well as leave a little wiggle room for a move like this.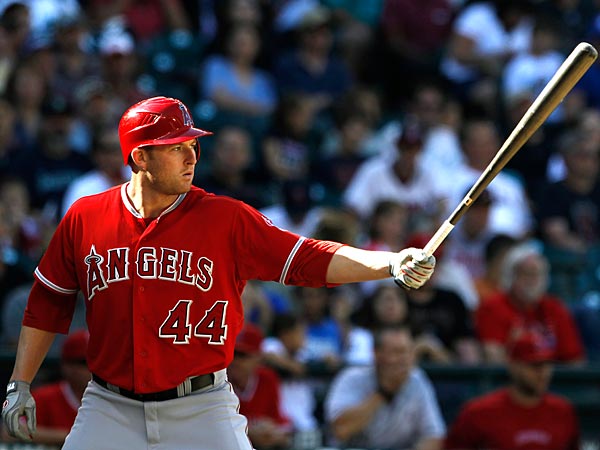 A possible trade could look like this:
Joe Ross and Zach Eflin for Mark Trumbo
Even though Mark Trumbo strikes out excessively (184 strike outs last season), his power is too good to pass up. Last season, Jedd Gyorko was the Padres home run leader with 23. Trumbo hit 11 more home runs. A healthy Padres team would look quite a bit better with Mark Trumbo hitting in the clean up spot:
SS Everth Cabrera
1B Yonder Alonso
LF Carlos Quentin
RF Mark Trumbo
2B Jedd Gyorko
3B Chase Headley