With spring training upon us, and baseball finally getting back into the swing of things (PUN ALERT), I've decided to familiarize you with three players you'll want to know about before you would have found out about them. The MiLB is full of incredible talent, but it can sometimes be very hard to judge how that talent will pan out in the MLB. There's some guys, however, that it's hard to not stare at and wonder when they'll be signed by the Yankees when they hit free agency for a lot of money. But that's just the thing with top talent minor leaguers, they usually aren't on the big market teams, which gives us the superstars in small markets for the little time we get to see them there. Well, I'll get to it, three young players you need to know for 2013.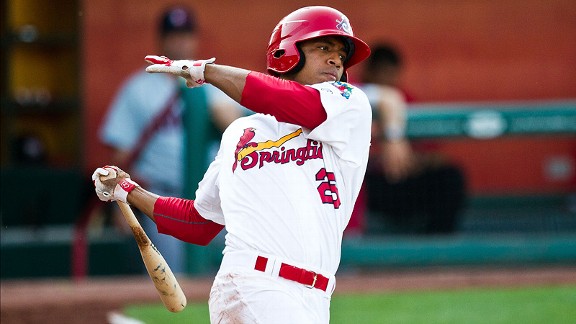 Oscar Taveras
1. Oscar Taveras, OF, STL
If you hadn't heard of Mike Trout and wish you could've bragged that you knew he was this good all along to your friends once the insanity hit, here's your chance. Taveras has been simply incredible in the minors. He's a lefty with a lot of power and an impressive swing. Unlike a lot of baseball-mashers in the minors, he doesn't strike out much when he's up, and the batting average proves that. Taveras, while playing for the Springfield Cardinals (AA) in 2012, hit .321 with 23 HR and 94 RBI in 124 games. He's arguably the best hitting prospect in baseball. Along with his bat, Taveras has decent base running skills and worked hard to improve his defense last year. He's got a rocket arm that translates into nice play in either center or right field. Most scouts think he'll eventually end up in right field, but I think he's got a shot to stick in center. Taveras has the talent to make the roster for the Cardinals now, but St. Louis is determined to let him start the year in the minors to get a few more swings in. Perhaps they're trying to wait one more year until Beltran is gone from right to open up that spot in the outfield. Regardless of their motives, I think he'll force his way up around the end of June or early to mid July. Taveras should be a hot catch in fantasy leagues on the waiver wire if he continues the success from last year. Although the name Oscar Taveras doesn't have the ring or efficiency to it, people will soon know and remember his name just as well... well, almost just as well as Mike Trout's. We can all agree that Trout blew everyone away. This may cause a problem for the fan's desire of his imminent stardom, but once they get over the fact that Trout's come along once a half a century, Taveras will be recognized as an elite hitter.
2013 ESPN Projections: .289 AVG/3 HR/20 RBI
2013 CBS Sports Projections: .277/4 HR/20 RBI
Travis D'Arnaud (when with Toronto)
2. Travis D'Arnaud, C, NYM
If you're a small market fan, you've probably rooted for the team long enough to see them deal an elite player for prospects. Whatever your feelings are on that deal, you always want to see the prospects in return do something to replace the value lost by the star. In the case of D'Arnaud, he's been the prospect in this sort of deal, twice. First, in the trade for Roy Halladay from the Phillies to the Blue Jays, and secondly, in the trade for R.A. Dickey from the Blue Jays to the Mets. Now, I'm not sure what impression this gives you right off the bat, but if you're a prized chip in a two deals for aces, you'd better be pretty darn good. Travis shows off his great hitting and above-average defense at the backstop. He hit .333 with 16 HR and 52 RBI in 67 in the Pacific Coast League last year before tearing his PCL to end his season. He doesn't have monster power, but his ability to hit for average with some pop is rare at the catcher's position. On defense, he's got a cannon for an arm, and throws out a high percentage of base runners. As is with most young catchers, he's working to improve his blocking and fielding in general. With John Buck the leading catcher in New York at the moment, the door is wide open for D'Arnaud in the Big Apple contrary to Toronto where he was blocked by Arencibia. Think Mauer, Posey. This guy can hit the ball.
2013 ESPN Projections: .264 AVG/10 HR/36 RBI
2013 CBS Sports Projections: .270 AVG/7 HR/31 RBI
Tyler Skaggs
3. Tyler Skaggs, LHP, ARI
Wait, I thought the D'backs already traded their great pitching prospect (Trevor Bauer)? They did, but they had two of them. Meet Tyler Skaggs. Drafted at pick 40 in 2009, Skaggs is a southpaw with an incredible arm. He relies on a great fastball with a very nice curveball, probably one of the best in the minors. Skaggs went 9-6 in 22 starts with a 2.87 ERA in a mixture of AA and AAA ball last season, and his success earned a late season call up. Skaggs struggled a bit, but what rookie pitcher doesn't, and finished 1-3 with a 5.83 ERA in 6 starts. The important part of his appearance in the majors was that in itself, he had an appearance in the majors. The nerves should be greatly lessened for this season, even though they will still undoubtably be there with the pressure to perform well high in the great depth of baseball. The only tough part for young pitcher is that Arizona has a ton of pitching, even without Bauer, so he won't simply be "given" a spot in the rotation when he's ready. Skaggs has a great ceiling, No. 2 starting in my opinion with a possibility of being a future ace. He's also more low-risk than other top lefty prospects (Hultzen, Biddle, Paxton) because of his lack of problems with his game. All in all, this guy is going to be good, the only question is: how good? Can he morph into the next elite pitching ace of Major League Baseball? Or will he simply be an Arizona hero without the superstar status? Time will tell.
2013 ESPN Projections: 4-6 W-L/5.11 ERA/72 K
2013 CBS Sports Projections: 6-6 W-L/4.03 ERA/75 K
In conclusion, obviously, I'm not including all of the big names that would be standards in any top 10 prospect list, but this is mainly focused on the 2013. I definitely would agree that guys like Dylan Bundy and Jurickson Profar are incredible, but I think these three have the best chance to succeed in big ways for their clubs this year. And, to throw in one final projection, if you're in a deep 18-30 team league and are wondering what to do with your last pick in the draft, or want to make a deal in your dynasty or keeper league: draft/trade for Wil Myers. He's in a new uniform, and he was mashing the ball last year. I'm thinking 20+ HR's for this guy "now".
Less than a month 'til baseball!