104 years. What's happened in the last 104 years? Two World Wars, a man on the moon, Michael Jackson, the birth of the NFL, a country going from racial intolerance to electing a black president, the internet, and now a mission to
mars
? What hasn't happened in the last 104 years? We don't have flying cars, teleportation doesn't exist, world peace is a joke, and the Chicago Cubs, one of baseball's most historic franchise, has yet to win another world series. No streak of championshipless play exists in the current profession sports leagues today. Of course, we did have the Red Sox until recently, but we know how that tale ended (by what GM I might ask?). And yet after all these years of losing, the cubs still have one of the best fan bases in Major League Baseball. The Cubs averaged 35,000 fans per game last year, top ten in the league. Isn't it time that this franchise gives the fans what they deserve? I think they're almost there.
So why do I believe the Cubs will turn the corner to become an annual playoff team? It all starts with upstairs. Theo Epstein's brilliance that led to two titles in Boston came to Chicago last season, and he wasn't shy about shaking things up early. The also brought in Jed Hoyer and Jason McLeod from San Diego to reunite the talented trio in the front office. They don't have it as good as Boston (but who does?), however, Chicago is a big sports market, and the team should have no trouble spending the necessary dollars to keep and bring in valuable players.
As it stands now, the Cubs roster is not one that is going to compete in 2013. The difficult NL Central lead by the St. Louis Cardinals (who now look more vulnerable without Carpenter) will be too much for Chicago to play in. Nevertheless, here's my projected lineup, rotation, and valuable relievers for the Cubs 2013 season.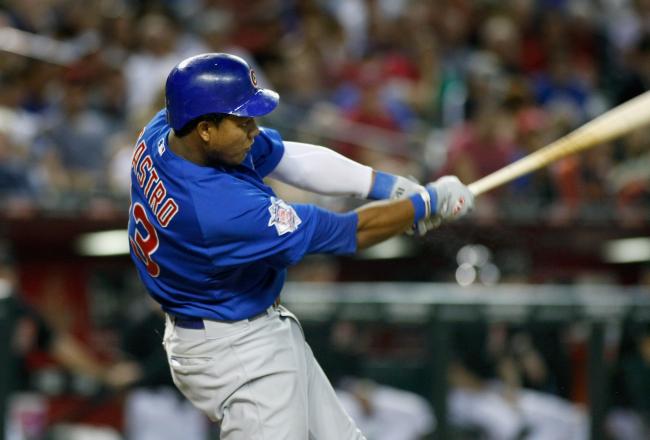 Cubs Shortstop - Starlin Castro
2013
Lineup
OF - David DeJesus
OF - Nate Shierholtz
1B - Anthony Rizzo
OF - Alfonso Soriano
SS - Starlin Castro
3B - Ian Stewart
C - Welington Castillo
2B - Darwin Barney
P - Starting Pitcher
Rotation
RHP - Matt Garza
RHP - Edwin Jackson
RHP - Jeff Samardjiza
RHP - Scott Baker
LHP - Travis Wood
Bullpen
RHP - Carlos Marmol
RHP - Kyuji Fujikawa
RHP - Arodys Vizcaino
While this team could close in on a .500 record, it's going to be tough with a talented National League.
The problems with the current state of the Cubs are:
1. Lack of a true power hitter
2. Below average speed on the bases
3. Lack of left-handed pitching
4. Questionable back-end of the rotation
How do you fix these issues? Through free agency, trade, or your farm system. In the Cubs case, and in Epstein's history, he has gone to free agency and the farm system to get most of his work done. And while signing Edwin Jackson this off-season was a smart move, the team will look towards its youth to bring life back into the Cubs organization. So who do the Cubs have that could turn this ship around, let's take a look.
Here's my top ten prospects as now in the Cubs system:
1. Albert Amora - OF - Taken number 6 in the first round by the Cubs in 2012. He's a smart hitter that does a bit of everything. Hit .347 in the Arizona League in 18 games at the end of last season.
2. Javier Baez - SS (possibly 2B) - Looks to be a solid hitter in the infield to pair with Castro. He can hit for power, but can be a little overaggressive at times. Still, he hit 18 homers and swiped 24 bags in 80 games last year.
3. Jorge Soler - OF - The Cuban defector is quick and can hit for power. Is this a young Alfonso Soriano? Looks like the right-fielder for the future.
4. Brett Jackson - OF - He struggled a bit in his brief stint in the majors last summer. He's the future center-fielder for this team with his balance of great speed and power on offense.
5. Dillon Maples - RHP - Yes, he's only in the lower levels messing with hitters with a nice curveball, and his delivery is a little off, but Maples is the best pitching prospect in the system of talented hitters.
6. Christian Villanueva - 3B - They got him from Texas, and he has great glove on the corner. He's got a solid swing, but tends to chase a bit out of the strike zone.
7. Dan Vogelbach - 1B - He's got a beautiful swing, but will he stay in Chicago with the young stud Rizzo blocking his way? Still hit .322 in total last year.
8. Pierce Johnson - RHP - Another right-hander with a nice curveball. He's got a history of medical issue on his arm, but he's been fine so far. Some can argue that his stuff is better than Maples, but I don't think he has as much upside.
9. Matt Szczur - OF - He's got the quickness to run the bases and patrol the outfield, but the hitting's a bit suspect. I'm not sure if he can be an every day guy unless he bunts exceptionally well.
10. Josh Vitters - 3B - He's had his troubles, but his bat is still one of the best in the system. With Villanueva in now in town, the path isn't as clear for Vitters, but he could still get the job in the corner.
The farm system is deep compared to most, but is heavily favored towards the hitting. Chicago will likely target a top arm in this summer's draft. The Cubbies have the second overall pick, and I'm predicting that they'll take Indiana State's lefty Sean Manaea.
So when will this curse be broken, I think in the next five years it just might happened. Here's my predicted 2015 lineup and rotation for the Cubs.
First Baseman for the future - Anthony Rizzo
2015
Lineup
CF - Brett Jackson
2B - Javier Baez
SS - Starlin Castro
1B - Anthony Rizzo
RF - Jorge Soler
LF - Albert Amora
3B - Josh Vitters
C - Welington Castillo
P - Starting Pitcher
Rotation
RHP - Edwin Jackson
RHP - Matt Garza
RHP - Jeff Samardzija
RHP - Dillon Maples
RHP - Sean Manaea
Bottom line, the lineup looks pretty solid. Villanueva could outplay Vitters, but with Vitters getting the first shot, I don't think he'll give up the job. Szczur could end up outplaying Brett Jackson, but I think he'll be more suited to the fourth outfielder role. Vogelbach is likely a trade chip (coming to that soon), and Pierce Johnson be the fifth starter if Manaea (assuming he's drafted) isn't ready by then. So you're probably wondering, what about Arodys Vizcaino? As of now, he hasn't proven he can start on a major league team. Some say he's more fitted to be a reliever, but if he can get it together, he's definitely in the rotation in 2015. He'd probably take the place of Garza, as the Cubs would feel less of a need to resign him in 2014.
So this team looks pretty good, but there's some obvious weaknesses with it. There's no elite starter at this point, unless Manaea simply dominates from the get-go, and the catching position is another weak spot. Consequently, I've come up with a trade for 2013 that I believe works for both teams in the future.
The Seattle Mariners trade:
LHP - Danny Hultzen
C - Mike Zunino
The Chicago Cubs trade:
3B - Christian Villanueva
1B - Dan Vogelbach
RHP - Dillon Maples
OF - Tony Campana
The deal works out for both sides.
Seattle: The Mariners get to keep King Felix and Taijuan Walker as a dominant one and two. So, they can afford to give up Hultzen if it improves their offensive production. We all remember the trade for Jesus Montero, and his bat could possibly move to first, but I think it stays at catcher. For this reason, Zunino, regardless of how good his bat is, doesn't fill a position Seattle needs. The team receives a third baseman who will probably outplay Kyle Seager. Vogelbach will finally unseat Smoak who's only playing because they have no one better. The team receives a the speedy Tony Campana to run the bases off the bench. Finally, Dillon Maples can be a nice starter behind Hernandez and Walker.
Chicago: The Cubs have Vitters and Rizzo set at the corners, so dealing Villanueva and Vogelbach is inevitable for this team to improve the pitching. The plethora of right-handers is a problem, as the team will need a lefty starter in the rotation. So, dealing Maples will decrease the depth slightly, but a prospect like Trey McNutt or Pierce Johnson could possibly fill this role. Campana or Szczur will be the fourth outfielder at this point, so it only makes sense to keep one of them. In return, the team will get a possible number one starter in Hultzen in return who is a lefty that the team desperately needs. With Hultzen, the Cubs don't have the pressure to resign Garza, and can spend the money elsewhere. Also, they get a top hitting catcher in Zunino who can mash the ball from the right side of the plate.
So, after this potential trade, the lineup/rotation would look like this:
Lineup
CF - Brett Jackson
2B - Javier Baez
SS - Starlin Castro
1B - Anthony Rizzo
RF - Jorge Soler
C - Mike Zunino
3B - Josh Vitters
LF - Albert Almora
P - Starting Pitcher
Rotation
LHP - Danny Hultzen
RHP - Edwin Jackson
RHP - Jeff Samardjiza
RHP - Pierce Johnson
RHP - Sean Manaea
Regardless of if the Cubs complete a trade of this nature, I think the Cubs will turn the corner by 2015 and become a playoff contender, and as we've seen, all it takes is for a team to make the playoffs, and a championship can be in sight.