Today, I'm going to look at Rockies third base prospect, Nolan Arenado. First, here's a look at the current situation for Colorado at third.
As of spring training, Colorado has patched together a few players to compete for the starting job at third. They didn't make a move during the off-season to fill that hole in their offense, which for their 2012 record, wasn't all that bad (second in the MLB in batting average and in the top half in a lot of categories). Consequently, the team will look to their youth to find the guy to play opposite Todd Helton in the infield. Leading the way for the Rocks at third will be second year player, Chris Nelson. Nelson was labeled as a play-anwhere-in-the-infield guy coming up through the farm system. In the midst of the Rockies' disastrous 2012 season, Nelson got the call for the majors mid-season and responded well, hitting .301 in 111 games last year. However, his play wasn't spectacular, and he appears to merely be an average to mediocre third baseman. After Nelson comes the enigma of the Rockies organization, Jordan Pacheco. He was brought up for years as the catcher that could hit, but was blocked behind Wilin Rosario. Last year, when he got to the majors, he showed his versatility by playing games at third, first, second, and catcher during his 132 games played. On the offensive side, he hit .309 and batted in 54 RBI's in his first season. He's shown that he's committed to improving this season as he showed up early with the pitchers and catchers to spring training to work to further improve his hitting. A late demotion at the end of the year sent him to AAA, but Pacheco hit .433 so it's a safe bet that he'll be back in the majors in 2013. After these two front-runners, you have Jonathan Herrera, a utility infielder with a decent swing, and DJ Lemahieu, who hit fairly well in his back-up infielder role in 2012. As you can see, Nelson and Pacheco at least have potential to improve, I especially like Pacheco's bat, but I think it should go elsewhere, perhaps first once Helton finally retires. This brings us to the fact that the Rockies are not set for the now or the later at third, and leads the door wide open for a great talent waiting in the minors: Nolan Arenado.
Arenado was drafted by Colorado Rockies in 2009 out of El Toro High School in California. His bat had drawn attention, but not enough to get him picked in the first round for more money. Arenado settled down in the Pioneer League playing for the Casper Ghosts and played 54 games in the 2009 season. He hit .300 and added support to his cause as the season came to a close.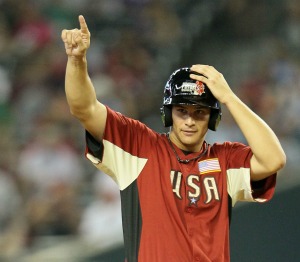 Going into 2010, Arenado was starting to be recognized as a figure in the Rockies organization. John Sickles, the writer for
Minor League Ball
, said this about Arenado heading into his first full season with the Rockies
,
"Very promising young hitter, but I want to see how his power and defense develop before going (grading him) higher." The Rockies agreed with the praise for the young third baseman and Arenado started off his 2010 season in A ball in the South Atlantic league with the Asheville Tourists (strange name for a team). He lived up to the hype, and Arenado posted fantastic numbers by hitting .308 with 12 HR and 65 RBI in 92 games. The success shot him straight to the top of the Rockies farm system. Baseball America proclaimed him the best hitter in the system in 2011 ahead of catcher Wilin Rosario. He was ranked #80 in the Pre-2011 Rankings released by Baseball America. So, going into 2011, Arenado was the most scrutinized hitter in the Rockies system, and average Colorado fans were starting to hear the whispers of talent in their farm system. The young third baseman got even better. He hit .298 with 20 HR and 122 RBI in 134 games for the A+ team: the Modesto Nuts (what is it with these Rockies farm team names). Arenado was then ranked the #22 prospect by MLB.com the following season and #42 by Baseball America going into 2012. It was rumored that he could be headed up to the majors sometime that season to help out a team that was struggling from injuries and a lack of talent, but Arenado didn't improve enough to get the call. His numbers dipped and he hit .285 with 12 HR and 56 RBI in 134 games for the AA Tulsa Drillers (I guess this one isn't so bad). And so here we are, Nolan Arenado is projected to be a factor at some point in the Rockies in 2013, but he will start the year in AAA until the organization feels the team is ready for him or that Arenado is ready himself.
So what makes Arenado such a standout talent? He's not a slugging, power hitting third baseman like Beltre or Rodriguez, he's more of a lineup drive, gap hitter. He has a short, quick swing that drives the ball with force. Scouts think his gap power can eventually translate into more home runs, but for the time being he won't be leading the MLB in home runs upon his arrival. His defense was once considered a problem by many, but he's worked hard to improve it where it's not really an issue. You can say this and that about this guy, but there's one solid fact about him: he can hit, and he can hit very well. He's also pretty clutch, and wasn't afraid of the big
moment
last year when he hit this bomb (see hyperlink).
All in all, the Rockies look like they've made a steal by taking this guy in the second round way back in 2009. We'll see if he can bring a strong presence in the middle of the lineup if he gets called up mid-way through this season. Best of luck to Nolan!