2012 Team by Team Pitching Rankings:
Earned Run Average (28th)
Quality Starts (29th)
Strike Outs (30th)
Batting Average Against (30th)
and as a result: Loses (4th)
So which team in Major League Baseball had these horrific struggles in pitching during the 2012 season. The Rockies? Nope. The Indians? Wrong again. It's the Minnesota Twins. Once the model of consistency, the Twins organization has plummeted into the depths of standings. So, entering the 2012 off-season, it was apparent that pitching would be something that the Twins would have to address. When asked before the start of free agency if he would chase after some talented starting pitching, GM Terry Ryan replied, "We better." There's no doubting that the Twins made moves this off-season regarding their pitching, and the first of these came in the form of Kevin Correia. Correia was signed on December 10th for two years, ten million. A name that made diehard Twins fans scramble to ESPN to look up the stats for this guy, shrug, and hope for the best. So for anyone less than a real baseball junkie who has no idea who Correia is, or just how good he can be, here's a look.
"It's been a great season so far. To get an Opening Day start and now add this to it, it's so far one of the best seasons I've had." - Kevin Correia.
Those were the words said in mid-July 2011 as Kevin Correia was elected to the National League all-star team following his hot start with the Pittsburgh Pirates. The 30 year old right hander had 11 wins (tied for third in the majors) and a 4.01 ERA. He'd brought hope to a fan base that had experienced one all-star pitcher in the past decade. However, Correia hit the wall after his all-star appearance. He struggled and only won a single game for the rest of the year while increased his ERA to 4.79.
Correia during the 2011 season - sporting the incredible 'stache
Questions circulated which Correia would show up going into the 2012 season. Thankfully for the Pirates, they got their all-star to pitch somewhat like one, and Correia was one of the reasons Pittsburgh got off to a hot start in 2012. In a wild turn of events for Correia at the trade deadline, the Pirates made a move to acquire Wandy Rodriguez from Houston. Consequently, Correia, who was coming off four straight starts of not allowing more than three runs in a game, was relocated to the bullpen despite his recent success.
A very frustrated Correia replied to the media following the news, "I want to start. For that to happen, I'll have to go somewhere else." In other words, "Please trade me Pittsburgh" was the plea issued from the starter.
Well, it didn't happen, and a slightly irked Correia headed into the off-season a free agent. He wanted to go somewhere he could pitch. He wanted to be a guy that was counted on by a team to shoulder a load in a rotation. He wanted a shot to prove that he was still an all-star pitcher from that first half of 2011. The Twins needed someone eat up innings in a rotation starting from scratch. The Twins needed consistency after a year of everything but that. It was the perfect match. Correia fits perfectly with the Twins pitching philosophy. Control, ground balls, get outs. You won't see a 200 K guy coming out of Minny very often.
GM Terry Ryan said this following the signing, "He's won in double figures the last four years in a row, and he's certainly a competitive guy," Ryan said. "He throws the ball over and does a lot of the little things right, like control a running game, and he handles left-handed hitters OK. He's been durable."
So did the Twins get a good deal at 10 million for 2013-2014? I certainly think so. Correia brings experience to a rotation that really needs it. He enters one of the best pitchers parks in baseball. Correia joins a team that brought home AL Central title after title with control pitchers who Correia emulates in his game. And, aside from a disappointing second half in 2011, Correia has been just below the all-star quality pitchers. With prospects Aaron Hicks, Oswaldo Arcia, Byron Buxton, and Miguel Sano possibly on the way in late 2013 or 2014, the offense will also get a boost to put the Twins back on the map.
Now, don't get me wrong, I'm not proclaiming Correia the ace and savior of the Twins pitching troubles. He's simply a piece in the puzzle, but that's how you build a championship team: getting the right pieces over time (unless you're from Miami and have a logo of a basketball on fire).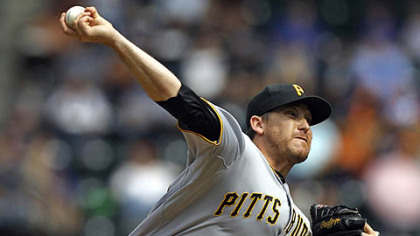 From a fantasy sports perspective, I don't expect Correia to be drafted outside of a few leagues in Minnesota. However, he's a low risk player with not a huge upside, but he can get the job done. If you're simply looking for someone who can fill in off the waiver wire for that inevitable injury that seems to plague you every year to your stud ace. Correia has a chance to be the number one in Minnesota while they build this rotation. He definitely won't pile on the strikeouts for category leagues, but he'll keep your ERA down and pick up wins. In keeper leagues, he could be a solid acquisition to a playoff team looking to strengthen its depth. The age (32) is a possible deterrent, but with a low velocity, control guy like Correia, age shouldn't be a factor yet.
In conclusion, Correia got what he wanted. The man will be starting for the Minnesota Twins in 2013. We'll see how he holds up.
I also want to introduce myself as this is my first post here at "If I Were GM". My name is Alex Monseth. I'm an avid sports fan of mainly baseball and basketball. I love writing about and analyzing/drawing conclusions about sports and the stories and drama that comes with them. Thanks to Noah for the opportunity!