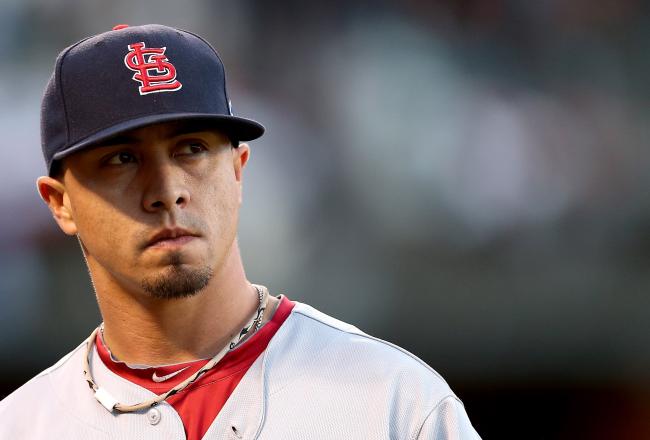 In an off-season where star players, such as Josh Hamilton, got paid big time, there has been one stud that has been quietly overlooked. Kyle Lohse. Perhaps it was that he was "overshadowed" by the big names of Chris Carpenter and Adam Wainwright. Maybe it was that he wasn't that successful in his past career in Minnesota and Cincinnati. Or is it because of the penalty of losing a draft pick that comes with signing him? Please. Kyle Lohse finished seventh in the Cy Young voting last year. Seventh. How is it not worth it for a contending team to sign a guy like that and give up a draft pick?
Lohse had an incredible season last year, and the year before that. He was the most consistent on the Cardinals 2011 World Series staff with a 14-8 record and a 3.39 ERA. Last year, in 2012, Lohse pitched his best season of his career heading into free agency. He led St. Louis with a 16-3 record and an even lower ERA of 2.86. He led the league in win/loss percentage and games started and, as I said before, finished seventh in the Cy Young voting. Kyle also gave up just four runs in seventeen and a third innings during the post-season until his last start where he was roughed up in Game 7 of the NLCS.... but surely that wouldn't deter teams from signing him? He's only 34, enough for a couple years left in him, and it's not like Lohse was a workhorse in his early years. So why hasn't he been picked up yet? To clarify the new rule in the MLB since the whole "Type A, Type B" stuff was scratched, if Lohse is signed, because he declined the qualifying offer of 13.3 million from the Cardinals, the Cardinals end up with a compensation pick from the team that signs Lohse. While this is a pretty steep penalty, again, think about it this way. It would be similar to a deal where say the Angels gave up first base prospect, C.J. Cron, to the Cardinals for Kyle Lohse. That deal's a no brainer for anybody.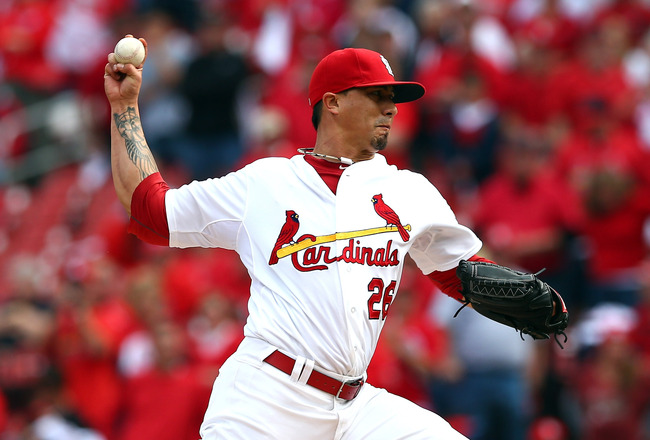 Because of his caliber, it makes sense for a lot of teams to sign him. He's pitched like an ace, there's no question about it. You could say all 30 teams should be in the market for a pitcher like this, but for some reason there isn't. And while I'd love for a team like Colorado, Minnesota, Kansas City, or San Diego to stick to the big market teams and get a top line pitcher in free agency for once, I can't see it happening for these cellar dwellers this off-season. Where do I think Lohse will and should end up? If your eyes skipped the article's title, here it is: Cleveland. Here's three reasons why.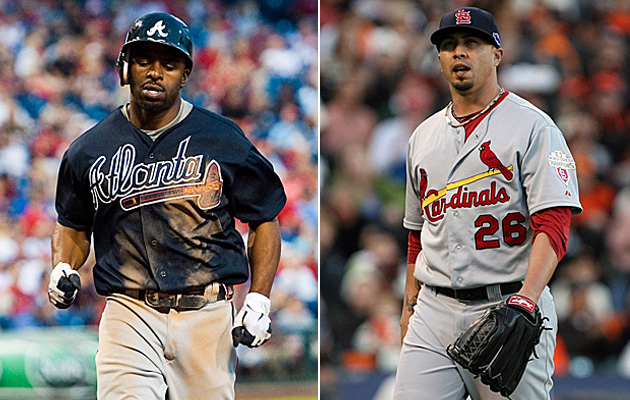 How's that for an off-season.
First of all, it would only increase the excitement in Cleveland about this year's Indians for ticket sales.
1. Signed Nick Swisher
2. Signed Michael Bourn
3. Hire Terry Francona
If a team can do that in the off-season, they mean business. Cleveland has been the punching bag of teams in the A.L. Central for over a decade, with the exception of a few years off and on. They finally decided enough was enough this off-season and brought in some big pieces to the team. Bourn and Swisher were arguably the next best two outfielders available after Hamilton. Francona, ignoring the last year in Boston where he let some pretty bad activity slide, is a proven winner and brings a recognizable face to the Indians clubhouse. What better to prove to a fan base in Cleveland that has had to endure
this
and a hopeless NFL franchise that you're not going to settle for losing? How do you get the fans to buy in hook, line, and sinker? Take the "chance" and sign the the 34-old pitcher that had a shot to win the Cy Young last year. I'm not sure what else would send a stronger message to the fans that they aren't taking this season lightly. Want to boost season ticket sales? Here's your opportunity.
Jimenez and Masterson
Secondly, Not only does this move make sense for the organization in attracting fans, but it also makes sense for the team that's playing on the field. The Indians rotation is led by two declining young, but talented pitchers in Justin Masterson and Ubaldo Jimenez. Both had terrific seasons in the past (Masterson two years ago, Ubaldo three), but each is under the pressure to perform well this season in the rotation if the team is to have any success. Enter a new staff leader. Sign Kyle Lohse, let Masterson and Jimenez start behind him. Tell me those three can't match up to most teams in the American League. While the team does need a southpaw in this rotation, having Lohse over an average lefty is an obvious choice. And think about this: the Indians acquired former top prospect Trevor Bauer from Arizona. Imagine the domination potential of this rotation if Bauer gets himself going.
Progressive Field - Home of the Indians
Finally, thinking about Lohse here, Progressive Field, where the ball seems to stop mid-air, is a pitchers park. And while Busch Stadium was already pitcher's paradise, Progressive is right up there on the list of tough parks.
So, in conclusion, I believe the Indians should step out and sign this guy. Lohse is a proven winner, and he could obviously help the team. Give him the 3 year deal, spend the money, it'll be worth it. Don't let your team be another disappointment to a city that's had to endure more than most. Quick, name another city/state that have lost the best player of a sport to free agency without getting anything back. Okay, okay, St. Louis got spurned with Pujols, but hey, they won a World Series didn't they? And who was their best pitcher that year? Sign him Cleveland.