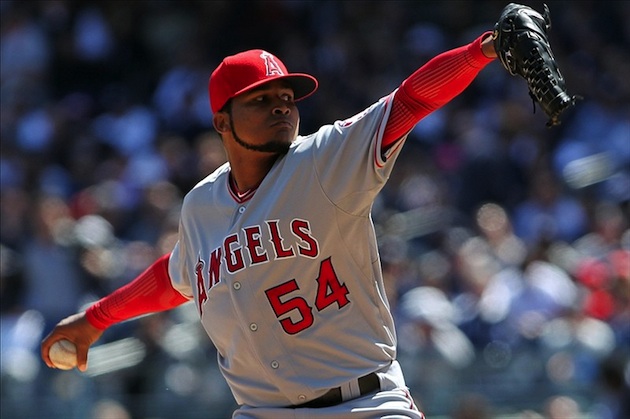 Ervin Santana
CBSSports.com
I am sorry I am late, and usually I don't do non-Padre related articles, but I felt like doing something different. Ervin Santana is a 29-year old starting pitcher, who has pitched for the Angels for his entire career. He had a club option for 13 million dollars and a 1 million dollar buyout. The Angels had limited interest in picking up the options of Santana or Dan Haren, because they wanted to resign ace Zack Greinke. The Angels soon realized it would be better to trade Haren and Santana, than to let them go to free agency. They made one of the first trades of the offseason, trading Santana to the pitching-starved Royals in exchange for minor league pitcher Brandon Sisk. The 6'2'' righty will be slated for the opening day start, assuming the Royals don't make another move. Sisk will have a chance to make the bullpen in Anaheim. Ervin Santana is a very reliable pitcher (compared to KC's pitching) who had a rough year last year and a great year before that, and has had some ups and downs along the way. A no-hitter on July 27th, 2011 against the Indians marked one of his best days, but ironically also against Cleveland, a 1.1 inning 8 run performance was one of his worst. Santana has performed poorly in limited opportunity in the playoffs allowing 14 runs in 22.2 innings pitched over 8 games, 2 starts. Santana is an above average pitcher who will provide veteran leadership to a young Kansas City team.
Brandon Sisk
royalsretrieval.blogspot.com
Brandon Sisk is the piece that is going back to the Angels. He is a 27-year old lefty reliever who has pitched in AAA for the last two seasons. He has a career 2.59 ERA in the minor leagues as a reliever, and has potential to fill a spot in the rotation. Don't expect too much from Sisk, but he could be of value. There isn't much information out there on Sisk, but it appears he was just a crafty lefty RP who has excelled in the minors.
Ervin Santana:
Year
Age
Tm
W
L
ERA
G
GS
IP
HR
BB
SO
2011
28
LAA
11
12
3.38
33
33
228.2
26
72
178
2012
29
LAA
9
13
5.16
30
30
178.0
39
61
133
8 Yrs
96
80
4.33
236
233
1475.2
203
475
1167
Brandon Sisk:
Year
Age
Lev
Aff
W
L
ERA
G
SV
IP
SO
2011
25
AAA-AA
KCR
7
3
2.52
41
2
60.2
58
2012
26
AAA
KCR
3
2
2.54
50
8
67.1
73
5 Seasons
20
18
2.59
198
42
340.1
376