I am sorry for this long time it took me to get back into the posting business, I just got out of school so I will be posting a lot more.
Before I go in depth with each individual pick, I will have to explain the new drafting rules. Each team gets a specific draft salary cap. Each pick is given a specific slot value, such as pick #7 is given a value of 3 million dollars. The addition of all these values for rounds 1-10 are the team's cap. If a team fails to sign a player, then they lose the allotted money given to sign that pick for their CAP. This is why pitchers Mark Appel, Clate Schmidt, and Cody Poteet fell so low. Appel was projected at #1 and fell to #8, Poteet and Schmidt were projected top 50 at least, and fell to 800-1200. If a team fails to sign a pick in rounds 1-3, they receive a compensation pick for not signing the player. The pick is one pick after the original pick. There are punishments for going over cap on picks, including after 5% over, you get a 75% tax on every dollar after that. You could also lose future picks. After round ten, you can sign any pick for 100,000 for each pick. If you go over, it is subtracted from your CAP. Just so you feel better about us not signing our picks, Chad MacDonald, our scouting director, said "I'd be shocked if we don't have the top ten done sooner than later."
I will review others later.
Here is a review of the Padres first few picks:
#1.7-LHP Max Fried
Signed: YES
Player Comparison: Clayton Kershaw
Slot Value: 3,000,000$
Signed For: 3,000,000$
babafoo.com
The young pitcher out of Harvard-Westlake High School in California, has drawn comparison's to Clayton Kershaw, C.J. Wilson, Cole Hamels, and Barry Zito. If those Kershaw comparisons are close, I would be ecstatic with this pick. Now we did pass up on RHP Mark Appel, who was projected to go #1. Before you go pull the "We only draft/sign/trade for what we can afford" card, the new rules basically said that we probably couldn't sign him with the 3 million slot bonus, which would have been a wasted pick. Scott Boras was his agent and it was rumored that the Astros, who picked first overall asked Boras would take a 7 million dollar when slot for #1 was 7.2 million and Appel declined. Now back to Fried. Some scouts viewed him as the top pitcher in the draft over college pitchers Kyle Zimmer, Kevin Gausman, and Mark Appel. He throws 90-93 with occasionally getting it up to 95. His curveball has been touted as the best in the draft by many. The 18 year old athlete has yet to sign. This was a solid pick here, and is an excellent addition to an already great farm system. Here is some video on the young southpaw:
UPDATE: He signed for slot.
UPDATE #2: He made his pro debut pitching a scoreless yet interesting inning.
#S1.33 RHP Zach Eflin
Signed: YES
Player Comparison: Jordan Zimmermann
Slot Value: 1,525,000$
Signed For: 1,200,000$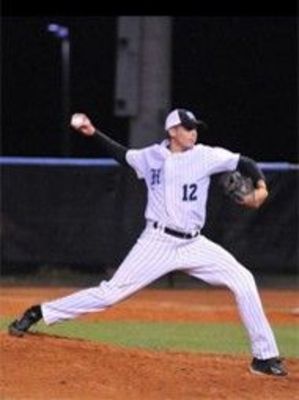 bleacherreport.com
The prep out of Hagerty High School was battling Triceps Tendinitis through out most of April, which killed his draft stock, dropping him down to around 20-35. We were lucky to snag him at #33, I am a big fan of the young righty, who has drawn comparisons to RHP Jordan Zimmermann. Eflin sits in the low 90's and hit 96 on the gun this spring. The 6 foot 5 right hander still has room to fill out, and potentially gain velocity. He gained a whopping 5 MPH on his fastball just last season. The point is, the kid still could improve of a huge base. He shouldn't be too hard to sign, but he still hasn't signed yet, which worries me. In case you're wondering where we got this pick, we got it because we let Heath Bell go into free agency. We also got a 2nd rounder with Bell leaving.
UPDATE: He signed for below slot.
#S1.44 OF Travis Jankowski
Signed: YES
Player Comparison: Cam Maybin
Slot Value: 1,160,000$
Signed for: 975,000$
SBNation.com
The young Stony Brook OF was part of a surprise team that he lead to the college world series tournament. They were eliminated on June 17th to Florida State. Expect him to sign for under slot after the college world series. The speedy outfielder boasts a quick bat and will likely hit for a lot of double and triples, and fits in like Cory Spangenberg fit in. The power could develop over time. I wonder if we are looking at the next Mike Trout? Jankowski was an excellent selection here, and hopefully can get started in Eugene soon. I think this pick could be my favorite pick for the Padres this whole draft.
UPDATE: Travis has signed for below slot.
UPDATE #2:He has been promoted to A-Fort Wayne